The Apex Hospital (A Unit of Medigrowth Hospital Private Limited) is a joint venture company between eminent doctors of Moradabad (U.P). It is built under the aegis of Medigrowth Hospital Private Limited, which is registered under the Health Department, U.P. Government (Reg. No.-MBD/ALL/03-04/510). The promoters of the company are Dr. Magan Mehrotra (Laparoscopic Surgeon), Dr. Leena Mehrotra (Obstetrics & Gynecologist), Dr. Sanjay Shah (ENT Specialist), Dr. ILa Shah (Anesthetist), Dr. Nitin Agrawal (Cardiologist), Dr. Kumar Kartikey (Orthopaedic Surgeon)… Dr. Samir Gupta (Pathologist), Dr. Dishanter Goel (Psychiatrist), Dr. Siddharth Singh (Radiologist) and Dr. Kajli Gupta (Radiologist).
At Apex Hospital, the application of sound medical expertise coupled with technological prowess in medical systems is ensuring that a wide range of health issues are addressed and an environment is created where "HUMAN CARE" transcends into a never seen before world. As an advanced tertiary care hospital promoted by Medigrowth Hospital Private Limited, Apex Hospital is gearing to elevate the standards of health care into a new realm.
The Promoters of Apex Hospital have embarked on an ambitious journey to completely rethink and redesign the existing healthcare landscape in our community and beyond. Apex Hospital aims at creating an environment of trust, care and wellbeing for the society.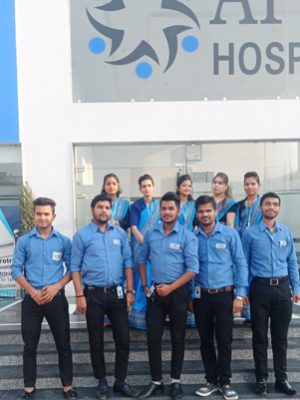 H.R. Department and Administration is headed by Er. D.k. Mehrotra suitably assisted by Naveen Kumar Chawla at H.R. Deptt. As part of continuous education for staff various tasks and seminars are held. We are developing a culture of work is workship. While Sufficient leave are provided to staff, there is no festival leave except for National Holidays. Er. Mehrotra is ably supported by a team of experienced and Competent Protessionals in various domains like Operature, Quality, Finance, Nursing & Maintenance.
Strategically located to provide 24 X 7 accessibility, the hospital is just on National Highway (N.H- 24) which connects Delhi & NCR. Apex hospital aims to provide a serene healing & wellness environment and its location fulfills this purpose in a wholesome manner.
Apex Hospital is committed to provide quality healthcare services and is in process of getting NABH accreditation to show its commitments; if achieved, Apex Hospital will be the first hospital in this entire region to have NABH accreditation in its belt.
Apex Hospital is a sprawling complex with a built-up area of around 6,625 sq mt. The standard that Apex hospital has set for itself is uncompromising. The hospital has been specially designed as a premium healthcare and premium hospitality complex and offers a range of premium rooms.
The total number of functional beds is 80 at present which will eventually go up to 100. Of these, 12 are in the Intensive Care Unit, 10 in Cardiac Care Unit, 6 in NICU, 5 in Emergency, 28 in General Ward (14 each for male & female), 12 in Semiprivate, 16 in Deluxe, 5 in Super deluxe, 3 in Labour ward, 3 in Dialysis. It also houses a 24 – hour pharmacy, radiology as well as pathology department.