[MBBS, MD (Psychiatry)] Chief Psychiatrist & Director
Dr Dishanter Goel has been a mertorious student throughout his career. He was the topper of intermediate board exams from Moradabad. He cleared pre-medical exams in first attempt and got admission in KGMC, Lucknow. He had deep interest in Psychiatry during his MBBS training and opted for Psychiatry as his MD subject at high rank. He passed MD Psychiatry from KGMC, Lucknow in 2007 which was considered to be one of the best Psychiatry Departments among all medical colleges in India. He was thoroughly trained in Child psychiatry, Deaddiction Psychiatry, Sexology, Geriatric Psychiatry and general Psychiatry. He was adjudged the best PG student of his batch in 2007. He was selected amongst the few pg students from India for the South Asian PG forum of Psychiatry in Malaysia.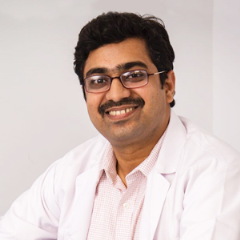 He started the Department of Psychiatry at Teerthanker Medical College, Moradabad and became professor in Psychiatry in 2017. He has Many national and international publications and his papers have been cited by many researchers. He has vast experience of treating almost all types of Psychiatric Patients needing admissions or OPD treatment. For the past 10 years he has been the visiting Psychiatrist to almost every major hospital in Moradabad, giving him vast experience in Liasion Psychiatry. He has been associated with almost all the deaddiction centers in Moradabad and has successfully treated all types of substance dependence in thousands of patients.